Electrician Step Drills
America´s Finest High–Speed Cutting Tools™


PRODUCT CATALOG >> Gold Oxide & Titanium Nitride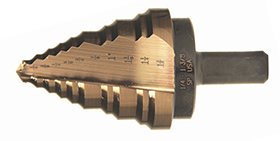 Gold Oxide Electrician Step Drill Type 78-AG




Gold oxide – low temperature stress relief that enhances lubricity, reduces fricition
and increases tap toughness.

Special axial and Radial flute design increases work pieces penetration.

Flats on shank give positive chuck–grip.

Use for all thin metals, rigid plastics, wood OR composite materials with a thickness
equal to or less than the step thickness.

Proudly manufactured in the USA.

DOWNLOAD: PDF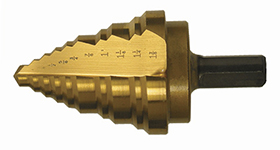 Titanium Nitride Electrician Step Drill Type 78-AGN




Titanium nitride – adds lubricity and hardness, enhancing chip flow, finish hole quality
and resulting in longer drill life.

Flats on shank give positive chuck–grip.

Use for all thin metals, rigid plastics, wood OR composite materials with a thickness equal
to OR less than the step thickness.

Proudly manufactured in the USA.

DOWNLOAD: PDF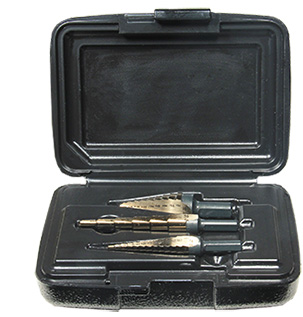 3pc. & 4pc. Electrician Step Drill Set

Dual flute construction drills clean accurate holes in thin materials, quickly and easily.

Use for all thin metals, rigid plastics and wood OR composite materials with a
thickness equal to OR less than the step thickness.

When drilling steel with 1/8" OR greater thickness, a starter hole of the
smallest step diameter will speed the drilling process.

Proudly manufactured in the USA.